AC Installation Services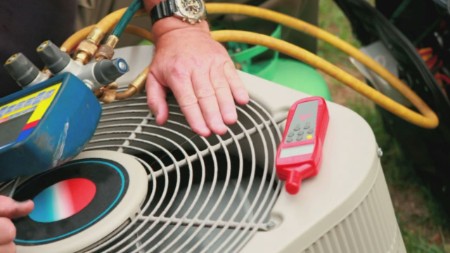 Greener Solutions provides the Jacksonville, FL area with high quality AC Installation services. Whether you need a new system for a brand new house or you have remodeled or junked your old system, we can help.
Before we install your system, we can perform a deep home energy audit. This provides us more information and allows us to understand how your home consumes energy and evaluate how we can make the home more energy efficient. With the information that we gather, we can move in the right direction that will help optimize your home's energy efficiency.
When Should You Replace Your Air Conditioning System
If your new system is replacing an old one, we will gladly provide you with proper installation done right the first time! However, we never recommend installing a new system until we explore the possibility of repairing your old one. If everything points to installation of a new AC system, trust our experienced professionals to get you set up and running with no problems!
Need A Second Opinion About Air Conditioning Installation?
If you need a second opinion, Greener Solutions can help. We happily provide second opinions about the costs associated with AC installations that you may have received from another company. If you feel uneasy with their service, our team can take a look and help you determine if they are the right solution. If not, we are happy to discuss your options with Greener Solutions. We also have plenty of information and insight on different brands of air conditioning systems on the market that will work best for your specific scenario.
Energy Audits
For even further recommendations and services that optimize your homes energy efficiency, you can request an energy audit. We also provide energy audits for commercial buildings as well.
Contact Us
Trust the team who has been providing high quality AC installation services around Florida for the past 22 years! Live comfortably, tread lightly, spend wisely!
---
Service Areas: