Air Conditioning Repair Services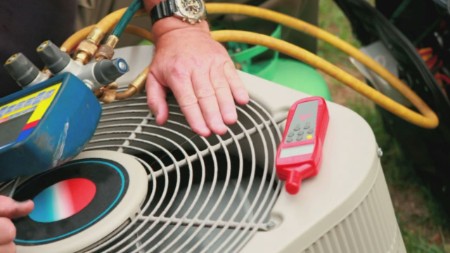 With how warm the weather is in Jacksonville, having an air conditioner is absolutely essential in any home or business. When it gets too hot, air conditioning units are heavily relied on to bring down the heat to a comfortable temperature. However, as with any appliance, there may be times where your unit may break down. While you may be able to bear through some time without air conditioning, during a heatwave, it can be dangerous for your health.
At Greener Solutions Air, our technicians engineer temperature control solutions for homes and offices that take into account more than a mechanical repair to an air conditioning Unit. We evaluate room-by-room readings to identify areas that can be fixed so that your entire home or office maintains a comfortable level of temperature and humidity.
When Should You Schedule Air Conditioning Repair?
If your air conditioning unit does not bring the temperature down in your home, our team can help. Even if your air conditioning unit turns on, there may still be ways to improve your system. If you notice your air conditioning unit struggling to keep the temperature down during a hot day or find certain rooms hotter or cooler than others, our team can help fix the underlying issues that create inconsistent cooling in your home or office.
Need A Second Opinion About A Repair Quote?
We are happy to provide second opinions about the costs associated with repairing your air conditioning unit that you may have received from another company. If you feel uneasy with their service our team can help you determine if they are the right solution for your air conditioning.
Contact Greener Solutions Air to schedule service from licensed professionals around Jacksonville today!
---
Service Areas: