AC Repair Services For Fleming Island, FL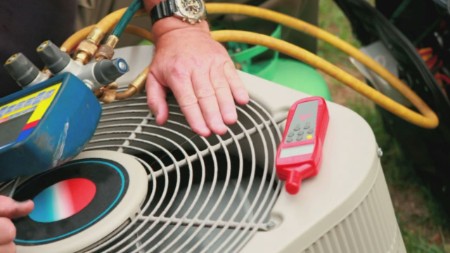 We all know how hot the summers can get on Fleming Island, FL. If your air conditioning system stops working, you will want to make sure you aren't caught in the heat. Greener Solutions will provide you with quick and effective AC repair services. The licensed and insured technicians we train and staff are knowledgeable in the field and have worked with all kinds of AC systems, so you can expect a job well done the first time around. In fact, we even provide long distance consulting because we are confident in our industry knowledge and want to help people outside of our service areas.
When To Get Air Conditioning Repair
Of course, if your system completely stops working, repair will be necessary. However, there are other instances where AC repair is necessary. Some of these are more obvious than others, but nonetheless, a system that is hindered will likely further snowball into more costly breakdowns and bleed money out of your wallet in the meantime.
Warm Air
Lack of Airflow
Frequent Cycles (Short Cycling)
Bad Odors
Loud Noises or Unusual Noises (bangs, hums, buzzing, screeching)
Water Leaks
Second Opinions
We are happy to offer customers second opinions about price quotes from other companies. As experts in the field, we know what is fair for pricing. In fact, we even offer complete home energy audits to find all the shortcomings of your HVAC system. We are able to do this because of our extensive knowledge and experience transforming inefficient homes into more efficient homes, and AC repair is part of the solution in many of our audits.
Contact Us
If you would like to schedule an appointment with Greener Solutions, simply contact us and we will provide you with our expert knowledge, unmatched AC repair services, and results that will make a difference in your utility bills.
---
Service Areas: